Simple Office Layout Planner
Effortlessly create professional office plans and layouts using our user-friendly and fully editable templates.
Available for:






All download >>
Effortlessly craft office layouts.
Built-in Templates: Expertly designed office layout planners blend ergonomic, aesthetic, and functional considerations seamlessly. With built-in templates, you can easily make minor adjustments to accomplish your desired outcome.
26,000+ Symbols: EdrawMax boasts an expansive symbol library encompassing furniture, lighting, dividers, flooring designs, fixtures, gadgets, and an array of essential symbols, facilitating the creation of intricate and comprehensive plans.
Why EdrawMax to create your office layout?
More Features

Infinite Canvas
Write down all your ideas.

Multi-platform Compatible
EdrawMax is available on Windows, Linux, Android, Mac OS, and iOS.

Search Accuracy
Locate the symbols and icons that best suit your needs in no time.

Presentation
Create slides capturing any section of a diagram and preview effects.

Smart Layout
Effortlessly change shapes and connectors with the click of a button.

Enterprise-grade Security
Rest assured you data is secured by the highest-level SSL encryption.
How to create office layouts in EdrawMax?
Explore Office Layout templates.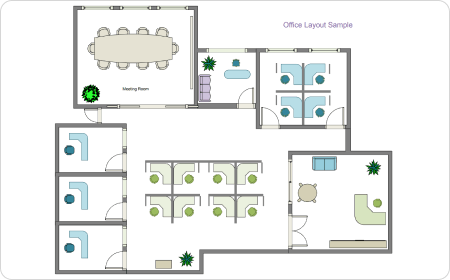 Office Floor Plan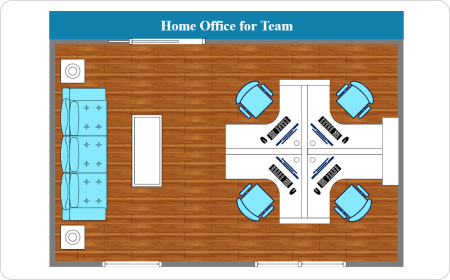 Home Office Layout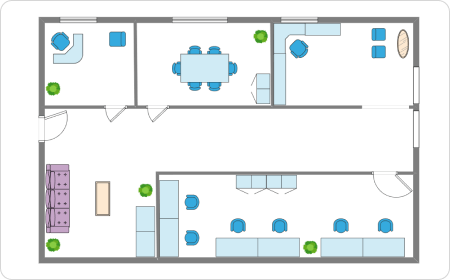 Small Office Layout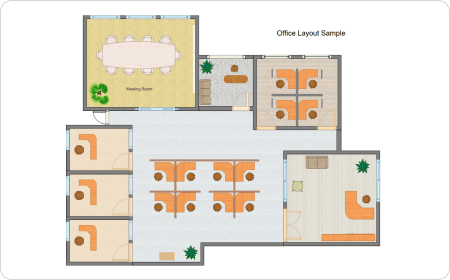 Modern Office Floor Plan

How Edrawers talk about us.
As an architecture, we often rely on heavy-duty tools to create office layouts for our customers. But most of the time, it becomes complicated to share the data of office layouts in different heavy file formats. EdrawMax has resolved this issue of ours. We can now create office layouts in this free software and later easily create an HTML link to mail the office layout files to our clients. A complete game-changer for us.
-- Sanjay Kumar
I teach interior design in Tokyo, and I needed a tool that my students could use to create complex office layouts. With EdrawMax, I can now create sample outlines with them, which they work around and share during the assignments. Moreover, the symbols and media import feature helps the students to customize their office layout to the fullest. I highly recommend this free online office layout maker to all.
-- Subhash Malviya
I have been a Visio lover for ages. But these days, my inclination has shifted to EdrawMax. It comes at half the price and offers more than any other office layout maker offers. From templates to smart object creation, symbol library, stylized options, and more -- this tool has it all! And don't worry about data, and it comes with free cloud storage that lets you access your office layout designs from your comfort.
-- Ali Tasmin

FAQs about EdrawMax office layout planner.
How do I plan my office layout?

1. Assess space and needs.

2. Determine work zones.

3. Optimize flow and accessibility.

4. Consider furniture and equipment placement.

5. Seek feedback and make adjustments.

Where can I edit the office layout?

EdrawMax offers a wide range of customization options that helps in editing office layouts. From the built-in tools, you can easily customize every aspect of your office layout.

How do I create an office layout online?

With EdrawMax Online, you can import the office layout templates and create your office layout in a few minutes.

What is ideal office layout?

The cubicle office layout is the most popular one. This kind of layout has workspaces being separated from one another by walls to form a shape of a cube.

How do I create an office layout in Excel?

MS support has a tutorial to teach you how to create an office layout in office. But it is a little difficult to use. If you want an office layout in Excel format, why don't you try EdrawMax to finish your creation then export to Excel?
All-in-one Diagramming Tool
Visualize your ideas with simplicity and style, using EdrawMax's smart and stunning diagramming solutions. Just try it, you will love it!