Simple Genogram Maker
An exceptional online software for visualizing hereditary patterns and the intricate interplay of psychological factors that intricately shape relationships.
Available for:






All download >>
Premium symbols and templates for professional usage.
Concerned about lacking professional design skills? EdrawMax provides an array of meticulously crafted, high-quality symbols, icons, shapes, and templates, enabling the creation of customized genograms. All symbols are vector-based, ensuring adaptability to individual preferences. Effortlessly choose a template and then seamlessly add the necessary symbols through a simple drag-and-drop process, resulting in the swift creation of an intricate genogram of unparalleled refinement.
Why EdrawMax to create your genogram?
More Features

Infinite Canvas
Write down all your ideas.

Multi-platform Compatible
EdrawMax is available on Windows, Linux, Android, Mac OS, and iOS.

Search Accuracy
Locate the symbols and icons that best suit your needs in no time.

Presentation
Create slides capturing any section of a diagram and preview effects.

Smart Layout
Effortlessly change shapes and connectors with the click of a button.

Enterprise-grade Security
Rest assured you data is secured by the highest-level SSL encryption.
How to create a genogram in EdrawMax?
Explore Genogram templates.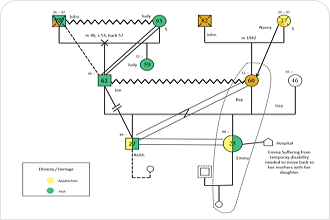 Community Genogram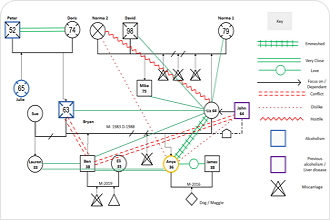 Family Genogram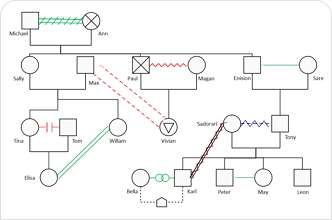 Basic Genogram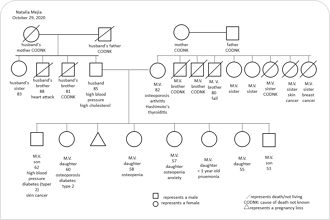 Career Genogram

How Edrawers talk about us.
EdrawMax has transformed my genogram creation process. The variety of templates allowed me to choose the perfect layout for each of my patients, while the auto-formatting feature saved me time. The ease of connectors made linking family relationships simple, and I could easily connect with different family members whenever and wherever I needed. EdrawMax truly offers a comprehensive set of features for genogram design.
-- Dr. Suzan Jones
EdrawMax is my go-to tool for crafting detailed genograms for my students. The templates provided a solid foundation, and the auto-formatting feature gave my genogram a professional touch. The option to create different legends helped differentiate between generations and relationships, among others. I can also import images right from the system and add them to the designated spot. The one-click auto-formatting feature makes this genogram maker a reliable choice for everyone.
-- Caesar Ba
I have been using MS Visio for genogram creations. However, ever since I moved to EdrawMax, I have never looked back. The abundance of genogram templates catered to my specific needs, while the ability to add different legends in the genogram is smoother and faster than any other tool. Sharing genograms with patients via PDF is a game-changer for my practice, as my patients can easily understand the dynamics of their families. I highly recommend going ahead with EdrawMax.
-- Katie Pierce.

FAQs about EdrawMax genogram maker.
Is there a free genogram maker?

EdrawMax is a free genogram maker to create your genogram quickly, even if you are a beginner. We provide you with pre-made templates and standard symbols, and you can just drag and drop to create.

Is there a genogram in Microsoft Word?

You can use the simple shapes in MS Word to create your genogram (it will be time-consuming), or you can try EdrawMax to finish your genogram and then export it into Word.

How can I make a genogram online for free?

EdrawMax Online will be your choice to make a genogram online. Just five steps to handle your work!

What is the difference between a genogram and a family tree?

Genogram has information about relationships and interactions among family members, but a family just shows lineage.

Is making a genogram a good idea?

Genogram can help you to know family relationships and health history, aiding in analysis and counseling. So, it may be a good idea to make a genogram of your family.
All-in-one Diagramming Tool
Visualize your ideas with simplicity and style, using EdrawMax's smart and stunning diagramming solutions. Just try it, you will love it!