Advanced Gantt Chart Software
Use our user-friendly Gantt chart software to create project timelines for your upcoming projects.
Available for:






All download >>
Effortless data import for Gantt chart.
EdrawMax enables you to import Gantt chart data effortlessly from formats including .txt, .csv, .xls, and .xlsx. Seamlessly integrate existing project details, eliminating the need to start from scratch. With this Gantt Chart maker, companies can witness exceptional convenience and efficiency as the desired Gantt chart comes to life.
Why EdrawMax to create your Gantt chart?
More Features

Infinite Canvas
Write down all your ideas.

Multi-platform Compatible
EdrawMax is available on Windows, Linux, Android, Mac OS, and iOS.

Search Accuracy
Locate the symbols and icons that best suit your needs in no time.

Presentation
Create slides capturing any section of a diagram and preview effects.

Smart Layout
Effortlessly change shapes and connectors with the click of a button.

Enterprise-grade Security
Rest assured you data is secured by the highest-level SSL encryption.
How to Make a Gantt Chart with EdrawMax?
Explore Gantt Chart Templates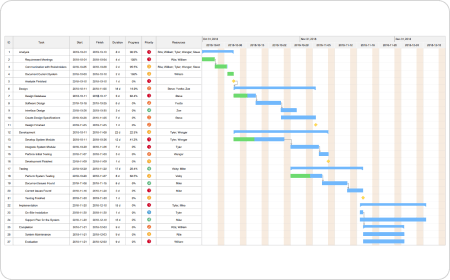 Gantt Chart Template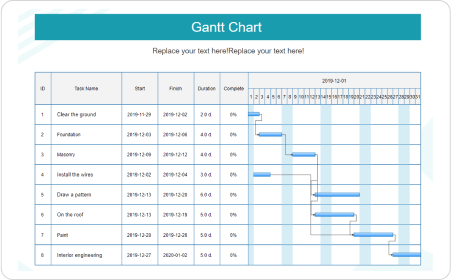 Simple Gantt Chart Template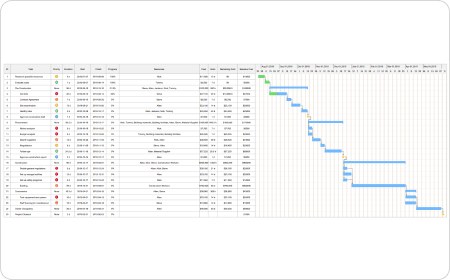 Project Gantt Chart Template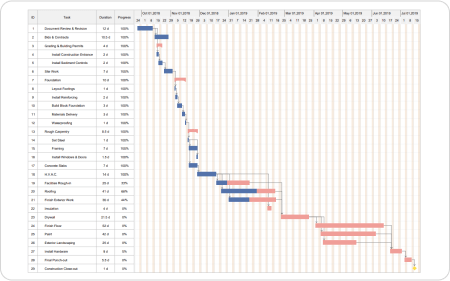 Gantt Milestone chart

How Edrawers talk about us.
We often require working on tight schedules, and for that, we are constantly looking out for such tools that would help us create extensive Gantt Charts. Upon checking online reviews, we took the trial version of EdrawMax, and within a few days, we moved to the lifetime subscription of it. EdrawMax has not only proved to be the game-changing Gantt chart maker but has also shown its capabilities as an all-in-one diagramming tool. With the new AI assistance, I am pretty sure that this is going to become the #1 choice for all the project managers out there!
--Anna Peterson
Having spent multiple years as a product manager in a B2B vertical, EdrawMax has been my go-to Gantt chart tool. Its diverse template library has not only helped us create extensive Gantt charts, but its ability to import the Gantt chart data right from our desktop has also proven to be pretty useful. If you are someone who needs to update the schedules of project deliveries here and then, we recommend checking out EdrawMax for a smoother transition.
--David Miller
EdrawMax has revolutionized my approach to project management with its exceptional Gantt chart tool capabilities. Its well-designed interface, a comprehensive library of elements, templates, symbols, icons, and customization options make creating Gantt charts a cakewalk for our interns. The tool's auto-adjustment of dates and dynamic linking of tasks ensures accurate and efficient project visualization. For professionals seeking a reliable Gantt chart tool that combines functionality and offers versatility when it comes to exporting data, EdrawMax is the solution that you all have been waiting for!
--Jen Thomson

FAQs about EdrawMax Gantt Chart.
How to create a Gantt chart in Excel?

Build a Gantt chart in Excel by entering tasks, durations, and dates. Use stacked bar charts and adjust formatting to visualize your project timeline effectively.

How can I make a Gantt chart for free?

Craft a Gantt chart without cost using online tools like EdrawMax. Import data, customize tasks, and export the chart for seamless project management.

Is there a Gantt chart template in Excel?

Yes, Excel offers Gantt chart templates. Access Excel's template gallery, select the Gantt chart option and input your project details for quick visualization. However, you will require tech expertise. Instead, create a Gantt chart in EdrawMax, export it in Excel format, and use it in MS Excel directly.

Which tool is best for the Gantt chart?

Opt for EdrawMax, an exceptional Gantt chart maker, for its intuitive interface, template diversity, drag-and-drop functionality, and effortless data import/export.

What is the easiest way to make a Gantt chart?

Experience ease with EdrawMax. Import data, customize tasks, and witness your Gantt chart take form dynamically. Simplify complex projects with minimal effort.
All-in-one Diagramming Tool
Visualize your ideas with simplicity and style, using EdrawMax's smart and stunning diagramming solutions. Just try it, you will love it!