Simple Floor Plan Maker
Harness the capabilities of EdrawMax's cost-free floor plan design tool to effortlessly create stunning and precise floor plans in minutes.
Available for:






All download >>
Built-in templates for your creation.
Select a customizable template from our gallery, seamlessly integrate the chosen symbols into your floor plan, and witness the swift generation of an outstanding professional floor plan design.
Why EdrawMax to create your floor plan?
More Features

Infinite Canvas
Write down all your ideas.

Multi-platform Compatible
EdrawMax is available on Windows, Linux, Android, Mac OS, and iOS.

Search Accuracy
Locate the symbols and icons that best suit your needs in no time.

Presentation
Create slides capturing any section of a diagram and preview effects.

Smart Layout
Effortlessly change shapes and connectors with the click of a button.

Enterprise-grade Security
Rest assured you data is secured by the highest-level SSL encryption.
How to create floor plans in EdrawMax?
Explore Floor Plan templates.
3 Bed Floor Plan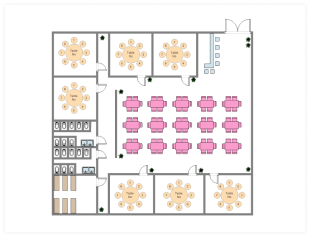 Restaurant Seat Plan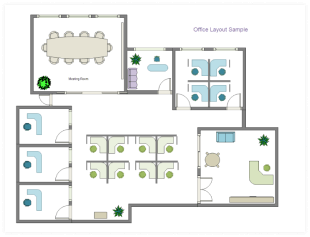 Office Layout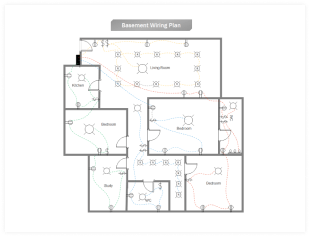 Basement Wiring Plan

How Edrawers talk about us.
EdrawMax is like a creative genie for floor plans. Its collection of floor plan symbols, like – dimensions to wardrobe designs, it's all there. And let's talk about the technical correctness – it's like having an expert civil and architect-engineer right in the software. The auto-formatting feature is a time-saver, making my floor plans feel like organized art. The cherry on top? The ability to create smart shapes that I can modify as per my will! This floor plan maker is a must-have for unleashing your desires.
-- Jay Gaurav
EdrawMax's floor plan wizardry is a revelation that I came across during my college days. The symbols collection is like a virtual toolkit, packed with everything from HVAC gadgets to stylish office furniture. From symbols' technicalities to auto-formatting, this free floor plan software has it all. Now I don't have to sit and hire a graphic designer to do my task. With all the tools at my fingertip, I can wield the power of floor plan creation like never before.
-- Jeet Kushwav
EdrawMax is my creative compass for crafting captivating floor plans. It literally hosts over 1000 symbols just for floor plan creation -- making it amazingly easy for us to create diagrams. From the template community, I can always take some sort of inspiration to create my unique floor plans. Now that I have mastered floor plans in EdrawMax, I am sure that with the new AI tool, this floor plan maker is going to surprise us all.
-- Sadaf Khan

FAQs about EdrawMax floor plan maker.
How can I create a floor plan for free?

There are many free floor plan software today. For pro users, AutoCAD or Autodesk may be your best choice. But if you are a beginner, and want to create your dream floor plan, EdrawMax is suitable for you. With different kinds of templates and standard symbols, you can drag and drop to create.

How to draw floor plan online?

Use EdrawMax Online to create floor plans online. The floor plans that you create online are stored in your personal cloud that you can access anytime, anywhere.

Can you make a floor plan on Microsoft Word?

There are some video tutorials on Youtube to teach you how to make a floor plan on Word, but it is time-consuming. If you want a floor plan showing in Word, you can try EdrawMax, as you can export your work in Word file.

How do I create a floor plan in Excel?

Creating floor plans in Excel is practicable, however, it will be lack of accuracy. So, if you want a floor plan showing in Excel, you can try EdrawMax, as you can export your work in Excel file.

Can I use Powerpoint to create a floor plan?

Creating floor plan in Powerpoint can make you present it easily. But, the limited functions of Powerpoint will let you do a lot of extra adjustment. EdrawaMax's presentation mode can fit your need or you can export floor plans in Powerpoint format.
Discover the Excellence of our Cross-Platform Floor Plan Creator!
Experience the delight of crafting floor plans with our user-friendly online tool. Discover abundant symbols and templates, effortless functionality, and satisfying service. Start your floor plan designing journey today!