Ideal Network Diagram Maker
Discover a powerful, easy-to-use solution for all your network diagramming needs! Easily visualize computer networks and create detailed network diagrams in just minutes.
Available for:






All download >>
Network Diagrams for Every Purpose
EdrawMax offers a comprehensive set of tools for creating network diagrams for various purposes. With EdrawMax, you can easily create professional-quality network diagrams to plan, troubleshoot, and document your network infrastructure and topology.
Why EdrawMax to Create your Network Diagram?
More Features

Infinite Canvas
Write down all your ideas.

Multi-platform Compatible
EdrawMax is available on Windows, Linux, Android, Mac OS, and iOS.

Search Accuracy
Locate the symbols and icons that best suit your needs in no time.

Presentation
Create slides capturing any section of a diagram and preview effects.

Smart Layout
Effortlessly change shapes and connectors with the click of a button.

Enterprise-grade Security
Rest assured you data is secured by the highest-level SSL encryption.
How to Create a Network Diagram in EdrawMax?
Explore Network Diagram templates.
Rack Diagram Template
AWS Diagram
Home Network Diagram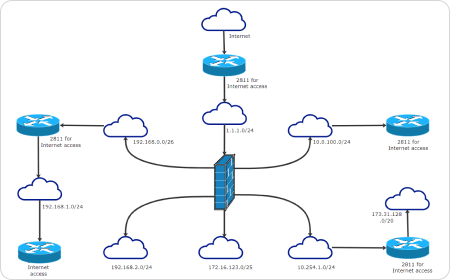 Logical Network Diagram

How Edrawers talk about us.
I needed software to help draw rack elevations and planning for deployments. The software was easy to use and included most objects that I needed to emulate.
-- Matt
Last couple of years I have used this designing tool to draw my business diagrams. Actually it's very easy to use. It doesn't matter if your new to designing diagrams, this tool will helps you to develop your skills.
-- Jayathi
Cross-platform and this software is an all-in-one solution providing unified and easy-to-use interface. On the other hand, they provide a very rich library as well as good samples.
-- Yongxin

FAQs about EdrawMax Network Diagram.
Can I try EdrawMax for free?

Yes, it is free to create network diagrams using EdrawMax. Simply download EdrawMax and try it out for yourself to see how easy and intuitive it is to use. However, the pro version would contain more features.

Does EdrawMax have any free network diagram templates?

In addition to the pre-made network diagram templates available in EdrawMax, users can access and customize network diagram templates from our Template Community. All of the templates created by the community are freely available for use by EdrawMax users.

What is the process for accessing network diagram symbols in EdrawMax?

To locate network diagram symbols in EdrawMax, navigate to the symbol library menu and select "Network Diagram." This will display all of the available subcategories of network diagram symbols for you to choose from.

What options are available for sharing my network diagram with individuals who do not have access to EdrawMax?

Once you have finished creating your network diagram, you can share it on social media, publish it on the Edraw Template Community, or export the file in various formats, such as Word, Excel, PowerPoint, Visio, PDF, SVG, PNG, and JPG.

Is it possible to modify a Visio file format network diagram using EdrawMax?

Absolutely. EdrawMax allows you to import your Visio files (vsd / vsdx) and customize every element of the diagram to your liking. EdrawMax is one of the best alternatives to Visio available in the market.
All-in-one Diagramming Tool
Visualize your ideas with simplicity and style, using EdrawMax's smart and stunning diagramming solutions. Just try it, you will love it!