Generate SWOT Analysis for Free
Empower your business with instant access to a professional SWOT analysis generator
Available for:






All download >>
Streamline SWOT analysis with templates.
Uncover the potential of EdrawMax's built-in SWOT analysis templates. Easily integrate your data into these ready-made designs for various purposes. With this SWOT analysis maker, you get professional templates to create impactful SWOT analysis efficiently.
Why EdrawMax to create your SWOT analysis?
More Features

Infinite Canvas
Write down all your ideas.

Multi-platform Compatible
EdrawMax is available on Windows, Linux, Android, Mac OS, and iOS.

Search Accuracy
Locate the symbols and icons that best suit your needs in no time.

Presentation
Create slides capturing any section of a diagram and preview effects.

Smart Layout
Effortlessly change shapes and connectors with the click of a button.

Enterprise-grade Security
Rest assured you data is secured by the highest-level SSL encryption.
How to make SWOT analysis with EdrawMax?
Explore SWOT Analysis Templates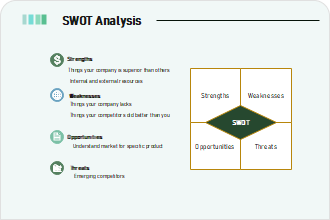 SWOT Analysis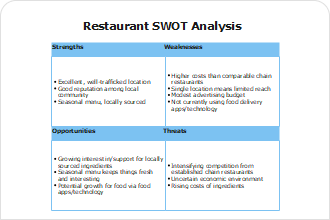 Restaurant SWOT Analysis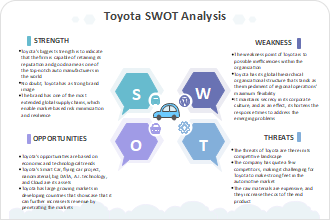 Toyota SWOT Analysis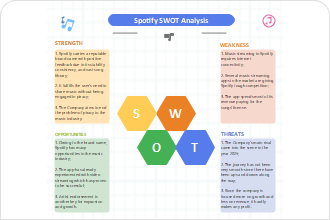 Spotify SWOT Analysis

How Edrawers talk about us.
For years, I searched for an all-in-one solution to cater to my marketing needs. As a Marketing Specialist, crafting analysis diagrams daily was daunting with multiple options, but this SWOT analysis generator changed it. With incredible EdrawMax, my creativity soared. Its abundant built-in templates eased my worries, and I am in total awe of its online support system.
--Ella Copper
This SWOT analysis software revolutionized my approach. As a business consultant, I rely on accurate insights. With EdrawMax, crafting SWOT analyses became easy and reduced the daunting process of going to a third-party tool for presentation. The diverse templates and customization options empower me to deliver top-tier strategic advice to my clients and stakeholders. This software is truly a game-changer in my profession.
--Alex Turner
I'm amazed by the capabilities EdrawMax offers. I currently have my own small D2C brand, and every now and then, we do a SWOT analysis to understand our shortcomings. EdrawMax streamlined our strategy planning. The templates catered perfectly to my business's needs. With revision access, we can even track back to a previous version and understand how far we have come. Thank you, EdrawMax, for being the best tool every entrepreneur looks for!
--Sarah Reynolds

FAQs about EdrawMax SWOT Analysis.
Is there a SWOT analysis template in Word?

MS Word has limited features. Instead, use EdrawMax to create a SWOT analysis diagram and then export it to Word format for easy integration.

Where can I make a SWOT analysis?

You can create a professional SWOT analysis using EdrawMax's user-friendly online platform.

How do you do a SWOT analysis in PowerPoint?

PowerPoint offers presentation options. Instead of PowerPoint, design your SWOT analysis in EdrawMax and export it to PowerPoint for impactful presentations, or create a slideshow right from this SWOT analysis maker.

How do I create a SWOT analysis chart in Excel?

Generate your SWOT analysis in EdrawMax, then export it into Excel format to open it in the latest version of MS Excel.

What is the basic SWOT matrix format?

The fundamental SWOT matrix comprises four quadrants: Strengths, Weaknesses, Opportunities, and Threats.
All-in-one Diagramming Tool
Visualize your ideas with simplicity and style, using EdrawMax's smart and stunning diagramming solutions. Just try it, you will love it!