It does not matter whether you are working on a small or large-scale project, there must be a smooth workflow to achieve higher productivity. This is where a research timeline template comes in. The timeline is used in different areas, but many people are still unaware of its key benefits.
This guide explains what a timeline with some popular examples from our EdrawMax to understand better how a timeline works. If you need more examples, do visit our templates community to explore tons of free templates. Now without further ado, Let's get started.
Part 1. What Is a Timeline?
The visual representation of dates or events in chronological order is called a timeline. Similarly, labeling various actions on the long bar is also a timeline. It does not contain any sort of figures, data, or images.
The Importance & Use of a Timeline
The reason why the timeline is essential for research projects is that it presents a sequence of activities, tasks, or actions within a specific time duration. Though timelines demonstrate information for a long time period, they do not carry detailed data.
Multiple types of timelines are available, including interactive, number or text, clickable, horizontal, and vertical timelines. Though their designs differ, they share the same structure: a long line with different points.
Timelines have a wide range of applications. They can be used to display information for any topic or project with a massive amount of data. Simply put, the major areas where you can use a timeline include; research, marketing, business, project management, education, and so on.
Part 2. Let's Go Through 4 Research Timeline Examples
It does not matter how easy or difficult a subject, task, or event is, real life examples always make things easier for you. They change the way you look at different things. Therefore, this section lists four research proposal timeline templates to help you better understand the importance of this diagram. Let's read through the purpose of every timeline template listed below.
1. Research Activity Timeline
The research timeline template below presents the activity plan for completing the research methodology course. The course is 25 weeks long, with different activities assigned every week. Each week has specific goals to achieve. When it comes tomaking a personalized scheme or understanding history, a timeline acts as a helping hand. For more details, look at the picture given below. Try this template and edit as and when needed.
2. Research Plan Timeline
Here is another research project timeline template. The overall planning process is divided into five months (May to September) with a certain task to complete. The first month is associated with identifying the most valuable business. A case study is created in the second month, June.
The third month (July) analyzes the gathered data. At the same time, the fourth month is about taking interviews with people with different demographics. The last month (September) deals with active participation in the case studies. Try this research timeline template and make edits, keeping your needs in mind.
3. Research History Timeline
Various historical trends of teaching between 1845 and 2022 are presented in this research project timeline template. It is a detailed timeline that represents information on every teaching trend, along with the year and picture of the resource person, as shown below. Bylooking at the research timeline below, you will get the general picture of the project. Try this template and edit it according to your project needs.
4. Psychopathology Research Timeline
The psychopathology research timeline covers pathology between 1852 and 2010. It will show you if some events are taking too long to complete. Try this timeline and edit it according to your needs.
Part 3. How to Make Such a Research Timeline within Minutes?
Now if you are eager to make an impressive timeline within a few minutes yourself? If yes, try EdrawMax - advanced timeline maker.With its tons of templates and intuitive interface, you can easily get started whether you are a diagramming pro or a beginner.
Why EdrawMax?
Let's look at the features that make Wondershare EdrawMax different from all traditional tools.
A free version is available with access to most features.
This tool offers AI-powered features with 15,000+ templates, 26,000+ symbols.
It comes with an elegant and beginner-friendly interface.
You can share your diagrams in various formats including Visio., PDF, Graphics, and more.
Efficient visualization with seamless collaboration.
Also used by employees of major companies like Amazon, Sony, Puma, and more.
Steps to Create a Project Timeline with Wondershare EdrawMax
Within just a few steps (as listed below), you can create your timeline templates with EdrawMax. Let's look at the step-by-step guide.
Step1
Create your account to sign in. If you already have an account, you can simply log in.
Step2
As soon as you open this online tool, go to the "New" menu, select "Business," and tap on "Project Management." Now, click on the "Project Timeline."
Step3
You have two options now. You can either select a built-in timeline template or create your timeline from scratch. If you want to make a timeline from scratch, hit the "+" button.
Step4
Customize your timeline by choosing your preferred symbols, timeline bar, and other similar parameters.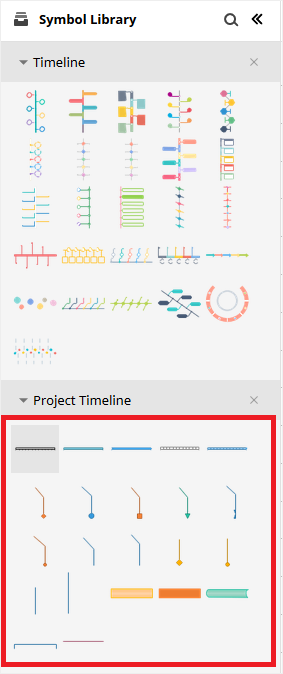 Step5
As soon as your timeline is ready, enter the "File" menu, click on the "Export" option, and choose any file format you want. You can also share the timeline online with your colleagues or friends.
This is how you can create your research timeline template with EdrawMax in just 6 easy steps. Follow them carefully and you will get an amazing timeline in the end.
If you are still confused and are looking for a more detailed visual guide, don't forget to watch this video clip. It explains the overall process visually in a more appealing way. Try this out.
Final Words
When it comes to assisting people in understanding current or past trends, presenting a history, or the development, timelines are extremely useful. This diagram also plays a crucial role in the management tasks. It displays different events or activities in chronological order to make you familiar with the history.
Though the market has a couple of online and offline tools to create research timeline templates, trusting a random utility can be risky. If you are looking forward to making a timeline with dependable diagramming software, Wondershare EdrawMax will surely be your best partner. Give it a try, and you will be super happy to see the results.
EdrawMax Desktop
Create over 210 types of diagrams
Windows, Mac, Linux (runs in all environments)
Professional inbuilt resources and templates
On-premises software for business
Enterprise-level data security
EdrawMax Online
Create over 210 types of diagrams online
Access diagrams anywhere, anytime
Team management and collaboration
Personal Cloud and Dropbox Integration