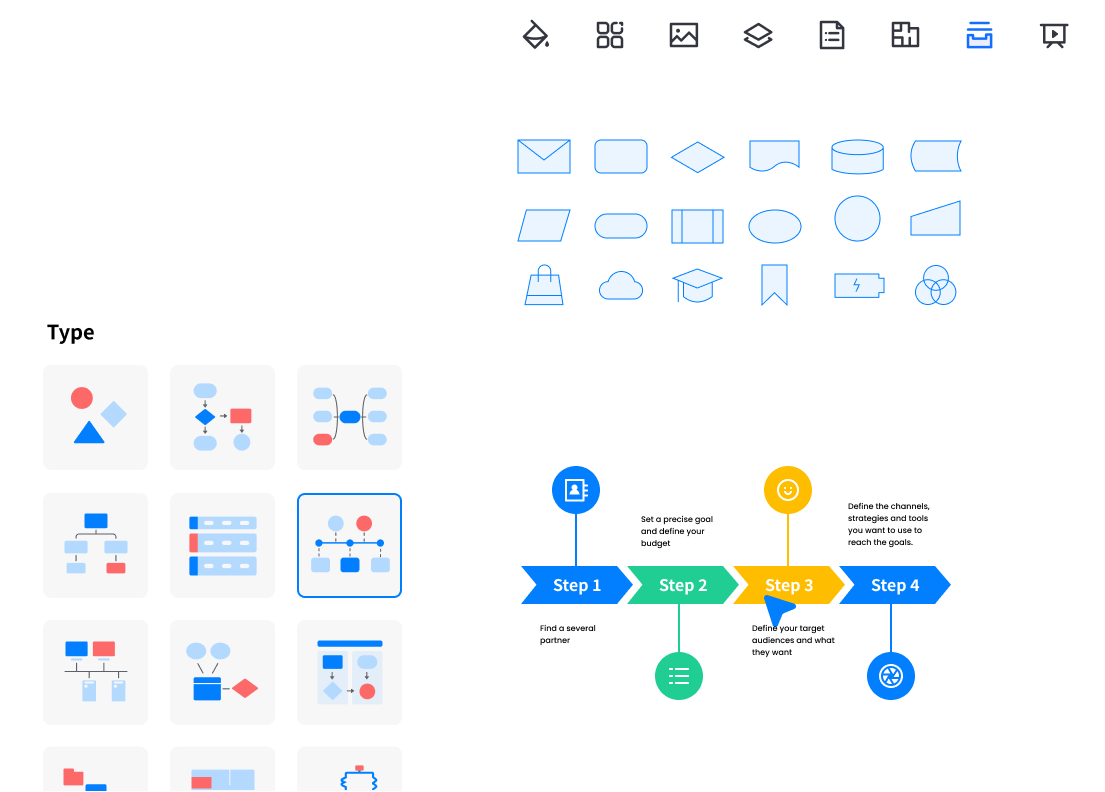 Welcome to an exploration of top-notch Windows diagram tools. Practical diagramming tools are essential in a world where visuals are crucial in communication. These tools are vital in simplifying complex ideas, enhancing communication, and streamlining processes.
Fortunately, Windows users have many options, including the versatile EdrawMax. In this article, you'll delve into the finest diagramming software available for Windows. This will empower you to choose the perfect tool to bring your concepts to life.
Part I. How To Choose the Right Diagramming Tool for Windows
Selecting the ideal diagramming software for your Windows computer requires careful consideration. As you go on your quest to find the right tool, several essential criteria should guide your decision-making.
Ease of Use
A great way that software becomes easy to use is through its user-friendly interface. This means that when you look at the program, it's clear what to do. Similarly, an intuitive navigation system in diagramming software means you can move around and find what you need without getting lost.
Another cool thing to have is drag-and-drop capabilities. Imagine you have a box of Lego bricks. If you can drag and drop elements like shapes and icons onto your diagram, it's much simpler than having to position everything manually.
Availability of Features + Pricing
When choosing diagram software, it's super important to see if it has the things you need and is easy to use. Check if the software has different diagrams you can make. Also, consider if it has many other things in your charts and if you can change elements to fit what you want.
Remember to look at how much it costs. Some software might be free but have only basic stuff, while others might need you to pay for more features. So, see if there's a free version with basic stuff or a paid version with better things you might want.
User Rating
Listening to what other users say about software helps you know if it's good. You can check out reviews and stories from people who use the software to make diagrams, just like you. If many people give it high ratings, the software works well. It's also likely that the company helps customers when needed, and most people are happy with it.
By looking at these things, you'll be ready to make a smart choice. Also, ensure the software you pick works well on your Windows computer. And don't forget, the software mustn't crash all the time. It should also do the things you need.
Remember, choosing the right software is vital because it helps you make diagrams that look good and make sense. This matters even if you already know a lot about making diagrams.
Part II. Top 8 Free Diagramming Software for Windows
Several remarkable tools stand out when harnessing the power of diagramming on your Windows platform. These diagramming applications offer various features. They cater to different skill levels and needs. Dive into some of the top free Windows diagram tools in this section.
EdrawMax emerges as a powerful and versatile diagramming tool, ideal for Windows users seeking an intuitive yet comprehensive diagramming experience. With an interface that simplifies complex processes, EdrawMax offers a rich collection of templates, shapes, and customization options. From flowcharts to mind maps, organizational charts to floor plans, EdrawMax covers an extensive spectrum of diagram types.
Here are its key features:
Beginner-friendly Interface. The application has an easy-to-use interface suitable for beginners and professionals alike.
AI-Powered Diagramming. You can generate diagrams like flowcharts or mind maps with a single click or ask AI to analyze various types of diagrams.
Template Library. EdrawMax offers a vast library of templates and shapes for various diagram types.
Desktop and Online Versions. EdrawMax has online and desktop versions for maximum flexibility.
Real-time Collaboration. The application offers collaboration and sharing options for seamless teamwork.
Rich Export Options. EdrawMax supports a dozen export formats like PDF, PNG, or Word, PowerPoint or Excel.
EdrawMax Testimonials
Users have found EdrawMax capable and versatile for academic and research purposes. The pre-built templates stand out, allowing the creation of impressive diagrams. Often compared to Microsoft Visio, EdrawMax Online is considered an equivalent, if not superior, alternative. Its intuitive drag-and-drop feature simplifies software design initiation.
Additionally, EdrawMax Online proves powerful for presenting ideas through visual graphics. Thanks to its valuable templates and symbol libraries, it excels in various fields. Edrawer Stephane C. reported that it's excellent even for electrical and hydraulics diagram creation.
Microsoft Visio: Diagramming Industry Standard
Microsoft Visio has long been a go-to for Windows users looking for diagram tools. It has various templates and shapes specific to business processes. Visio is tailored for creating flowcharts, org charts, network diagrams, and more. Its integration with other Microsoft Office applications enhances collaboration and streamlines workflow.
Miro: Collaborative Visual Platform
Miro offers an interactive canvas for brainstorming, visual collaboration, and diagramming. Windows users can leverage its virtual whiteboards. Use pre-built templates to ideate, organize thoughts, and create various real-time diagram types.
FigJam: Jamming With Interactive Diagrams
FigJam is an easy-to-use diagramming tool that is part of the Figma suite. It focuses on providing real-time collaboration. Windows users can collaborate on diagrams, mind maps, and flowcharts, enhancing team efficiency and communication.
Gliffy: Simplicity in Diagramming
Gliffy is an Atlassian diagramming platform for Confluence. It provides an uncomplicated platform for Windows users to create flowcharts, org charts, network diagrams, and more. Its straightforward interface and drag-and-drop functionality suit those seeking a simple diagramming solution. It's a perfect choice if you're already using Confluence.
SmartDraw: Diagrams With a Professional Edge
SmartDraw boasts an expansive template library and intelligent formatting options. Windows users can easily create polished diagrams. This can enhance visual communication across various industries. SmartDraw is also one of the industry leaders in Windows diagram tools.
Creately: Simplified Visual Communication
Creately offers a user-friendly interface for Windows users to create diagrams, mind maps, and flowcharts. Its collaboration features streamline teamwork and enable real-time editing. It's another perfect fit if you're looking for a Windows diagram tool that's easy to use.
draw.io: Open-Source Diagramming Tool
draw.io is now part of the diagrams.net suite. It offers an open-source platform for Windows users to create diagrams. Its versatility and compatibility with cloud storage make it a handy tool for collaborative projects. It's a fairly straightforward app that gives you all the basics for free.
Part III. Tips To Follow When Creating Diagrams
Creating impactful diagrams requires more than just software proficiency; it demands a thoughtful approach to design and communication. Here are some valuable tips to keep in mind when crafting diagrams using diagramming tools on your Windows platform:
Knowing Your Purpose: Choose the Right Diagram Type
Before you start making diagrams, it's good to think about why you're making them. Different charts do different jobs – some show how things work, some show how things are connected, and others show data. Choosing the right diagram helps you best show what you want to say.
Simplicity: Clear and Concise Design
When you make your diagram, make it neat. Put only a little stuff in there that might confuse people. Make it easy to understand using simple shapes, lines, and colors. Focus on the important stuff, and don't make it too complicated. The strategies make it easier for people to see what you're trying to show.
Hierarchy and Organization: Prioritize Information
Organize your diagram logically and hierarchically. Put the most important things where people can see them easily. You can make important things bigger or put them in a special place. This helps people know what's vital in your diagram.
Consistency: Maintain Visual Harmony
Maintain consistency in your diagram's design elements, such as font styles, colors, and shapes. Try to make everything in your chart look the same. Use the same kinds of letters, colors, and shapes. The method makes your diagram look nice and professional. People can look at your diagram and understand it better when things look similar.
Legends: Provide Contextual Clarity
If your diagram has things that are hard to understand, you can add a legend. A legend helps people know what different things in your diagram mean. If you use colors or symbols, the legend explains what they stand for. This helps people get the right idea from your diagram.
Conclusion
Finding the right diagramming tool is vital in a world where diagrams simplify complex things. In this article, you've explored the top diagram tools for Windows, weighing features and ease. Remember, simplicity matters: choose the right type, keep it neat, and lead your audience through a hierarchy. Consistency and legends boost your visual game.
As you create diagrams, EdrawMax is worth a try as your powerful partner. With user-friendly features backed by positive testimonials, it's worth a try. It's one of the best diagramming software for Windows out there.
EdrawMax Desktop
Create over 210 types of diagrams
Windows, Mac, Linux (runs in all environments)
Professional inbuilt resources and templates
On-premises software for business
Enterprise-level data security
EdrawMax Online
Create over 210 types of diagrams online
Access diagrams anywhere, anytime
Team management and collaboration
Personal Cloud and Dropbox Integration